What Does the Bible Say about Archangels?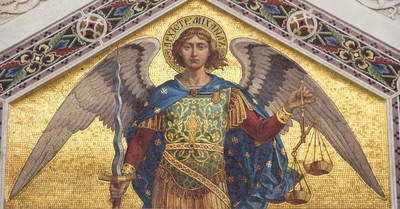 By Lancelot Tucker, Crosswalk.com
Archangels are mentioned in the Bible on many occasions. These supernatural beings are special to God and play an important role in helping to establish the purposes of the heavenly Father.
Heaven has an array of archangels and angels responsible for carrying out God's bidding, and they will stop at nothing to do so. In this article, we are looking at these special servants of God, their role in heaven, and how they operate in helping to establish God's kingdom throughout the world.
Where Does the Bible Mention Archangels?
The Bible speaks about archangels two times. Although these awesome beings are not mentioned in the Word of God many times, they still play a significant role in God's timetable.
Below are the two places in the Bible that made mention of these major angelic beings.
"For the Lord Himself shall descend from heaven with a shout, with the voice of the archangel, and with the trump of God: and the dead in Christ shall rise first" (1 Thessalonians 4:16 KJV).

"Yet Michael the archangel, when contending with the devil he disputed about the body of Moses, durst not bring against him a railing accusation, but said, The Lord rebuke thee" (Jude 1:9 KJV).
What Do Archangels Look Like?
The Bible did not give a clear picture of what an archangel looks like.
Servants of God, such as Ezekiel, happened to get a peek into heaven and saw four living creatures stationed around the throne of God. He describes their appearances as being like "coals of fire," with quick movements that resemble "flashes of lightning," wings echoing "like unto the rushing of waters," and their disciplined movements as "like a sound of an army" (Ezekiel 1:13, Ezekiel 1:14, Ezekiel 1:24-28). Yet, the prophet did not call them archangels. He only mentioned them as creatures.
What Special Roles do Archangels Play?
God has given special roles to the archangels to play. Archangels play two main roles: first, to function as God's servant (Psalm 103:20), and second, to aid humanity. Therefore, their main role is to act as intermediates between God and man. Take, for example, the archangel Michael's role played in the Bible that proved he was God's servant; he did battle with Satan in heaven. After he won the battle, the Bible said he cast out the devil from heaven (Revelation 12:7-12). Michael's action showed where his true loyalty lies: to God. The second thing that points to Michael helping humanity was when he contended with the devil for the body of Moses, God's servant (Jude 1:9).
God chooses archangels to be leaders over the other angels in the fight against evil. They are warriors who will stop at nothing until the hordes of hell are driven back.
Who Are Some Archangels that We Know?
Jude 1:9 names Michael as an archangel, "But Michael the archangel, when he disputed with the devil and argued about the body of Moses, did not dare pronounce against him a railing judgment, but said, "The Lord rebuke you.'"
Apart from the Book of Jude naming Michael an archangel, the same Michael is mentioned in the Book of Daniel as "one of the chief princes" (Daniel 10:13,) and in Daniel 12:1, he is described as the "great prince" who stands and fight for the people of God. In the Book of Revelation, we see Michael fighting and defeating Satan and his demonic hosts (Revelation 12:7-9).
While the canonical Scriptures don't mention any other archangels but Michael, other texts (some associated with Christiantiy, some in other religions) teach that there are other archangels. Below is a list of these other archangels that usually get mentioned.
Gabriel: Many people believe that Gabriel is another archangel. However, the Bible only refers to him as "the angel Gabriel" sent to Mary with an important message. Nowhere does the Bible specifically mention that Gabriel achieved the rank of an archangel. However, no one can dispute the claim that Gabriel was a special messenger. He brought news to Mary concerning the birth of Jesus Christ and to Zacharias about the birth of John the Baptist, the forerunner of Jesus. In addition, it is said that Gabriel appears to Daniel and reveals God's plan for the future. The Catholic church calendar honors Gabriel on March 24.
Raphael: The book of Tobit, part of the Apocrypha (which contains books that not all Christian traditions consider divinely inspired), mentions Raphael. Tobit refers to Raphael as one of the seven recognized archangels who appeared to Tobit and Tobias, encouraging them to lift their voices in singing praise and worship to God (Tobit 12:15-22).
Uriel: Uriel, sometimes called Ariel, is a name some people use for the guardian angel of the Garden of Eden. His name is also given to the mighty angel responsible for the slaying of the Assyrian army sent from Assyria to fight against the people of God (2 Kings 19:35). He is mentioned in 2 Esdras, another book located in the Apocrypha (see the second chapter, verses 1 and 36. Christianity.com's author Madeline Kalu explains that Uriel is an archangel because he is one of the seven archangels mentioned in the deuterocanonical Book of Enoch. It must be noted that the Book of Enoch did not call Uriel an archangel but only as "one of the angels, who presides over clamor and terror" (Enoch 20:2).
Tobit 12:15 mentions four angels in heaven attending the throne of God. The four it mentions by name are Michael, Gabriel, Raphael, and Uriel. However, the Roman Catholic Church claims only three archangels are present in the timetable of God, Michael, Gabriel, and Raphael.
Chamuel: This angelic being reportedly passes on the peace of God to others. Additionally, newworldencyclopedia.org claims that Chamuel (also known as Khameel, Kemuel, Camiul, Camiel, Camniel, Shemuel, and Seraphiel), is an angel of love.
Azrael: Some people claim that Azrael was the angel who killed the firstborns during the last plague in Egypt. Hence he is known as the Angel of Death (as cited in Surah 32:11, which makes up the 114 Surahs in the Quran).
Jophiel: Jophiel is reportedly the angel of beauty that brings positivity to humanity. The Encyclopedia of Angels, claims Jophiel guarded the Tree of Life. Other books written attributed to Pseudo-Dionysius (a name given to an unknown writer) during the era of the fifth or sixth century also speak of archangels' existence.
How Must We Treat Archangels?
While we can respect the roles archangels play in our midst, we must not worship them. All worship must go to God, the creator of all things, humans and angelic. However, various Christians believe that we can pray for God to send angels to protect us against evil. The Word of God says that angels are ministering spirits the Lord sends to help His people (Hebrews 1:14). We cannot fight against Satan on our own; instead, we should carry our burdens to God and ask Him to send angelic help to us.
We cannot fight an enemy that is mightier than us and knows every trick in the book that will help them to bring about our demise. However, with the aid of the angelic forces of God at our disposal and fighting on our behalf, we can expect to defeat the enemy and come out victors and not victims.
God creates archangels to play their part in the affairs of heaven and humanity. They obey their creator God and will not go against His will. As long as the earth remains and humans inhabit it, the angels of God will do everything in their power to stand by us so we can become the outstanding human masterpieces that the Lord has created us to be.
Photo Credit: Studio Images/Getty Images
Lancelot Tucker is a book author and freelance writer who writes on a vast amount of topics. In addition, he serves as an associate pastor in his hometown, Spanish Town. Lancelot loves to do research and write, and is an avid reader of other authors' works. When not writing or reading, he spends his time reaching out to the less fortunate residing in his community.
---
This article is part of our larger Spiritual Life resource meant to answer your questions about the Bible, God and the Christian faith. Visit our most popular questions on "What does the Bible say about…" questions answered by well known Christians and theologians to find more inspiration. Remember that as you read these articles, the Holy Spirit will give you understanding and discernment to make the right decision for your walk with Jesus Christ! If you know others struggling with these faith questions, please share and help others discover the truth on these controversial topics.