10 Ways to Overcome Obstacles That Hinder Our Prayers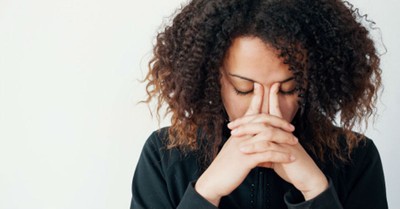 By Karen Moore, Crosswalk.com
What is it about settling down to pray that makes it so hard?
You can come to prayer with all the right intentions, ready to bare your soul and seek God's face, and for some reason, you can't focus. Everything serves as a distraction, from the fan blowing on your shoulders to the airplanes going overhead. Why can't you simply sit down and pray?
The noises in your head often get louder when you're trying to be quiet. You can't seem to stop the random thoughts that come from out of nowhere, thoughts that have no real significance except to interrupt what you're trying to do.
You may suddenly be hungry or too cold, or the phone will ring. Whatever is going on, you're doing anything but praying. So, what can you do?
10 Ways to Overcome Prayer Obstacles
1. You can read some Psalms. The Psalms offer a wide variety of prayers about every imaginable human need. David often wrote about his desire to be close to God. He would share his problems with those who made his life miserable, and he would give God thanks for those things that blessed him beyond measure. Other psalmists shared praise and blessings and sadness and woe. Psalm 91 is a great one to encourage you and redirect your mind and heart.
2. You can stop everything and try reading a written prayer aloud. You might try The Lord's Prayer from Matthew 6:9 or Solomon's Prayer from 1 Kings 8:22. These are pretty amazing prayers and they may help settle your wandering mind.
3. You can call a friend and ask them to pray with you. Explain that you're trying to settle down to pray, but the struggle is wearing you out. Rather than give up on prayer, pray with someone else.
4. You can pray a simple prayer to Jesus or the Holy Spirit to ask for help to quiet your mind.
5. You can start your prayer, dismissing the distractions as they come, and keep praying. Before long, you won't notice them anymore.
6. You can repeat the name of Jesus, until your heart quiets down.
7. If you keep a prayer journal, you might stop and write down some of the things you are planning to pray about. Write until you feel more at peace, and then read what you wrote, addressing it to God as a prayer. If other things come to mind then, you can pray about those too.
8. You might tune into your favorite station and listen to some music that quiets your soul.
9. You could read your favorite devotional and pray the thoughts that come to mind.
10. Finally, just stop, bow your head, and wait. Pray for the gift of God's presence and grace to ease your mind and give you peace.
One of the enemy's favorite tools is to irritate you and distract you from anything you're doing to try to draw closer to God. Whether it's prayer, or Bible reading, or planning a program for a church group, you'll probably find that distractions are just part of the business at hand. Remember that God has placed a power within you that is far greater than the power that exists in the world. This is a battle that has already been won, so you have the victory in hand. Send those pathetic distractions away in the name of Jesus, and they will flee from you.
Make Sure Your Heart Is Right with the Lord
Probably one of the best things you can do any time you plan to pray, is to do a little inventory and see if there's anything that keeps your heart from having a great connection with God. For example, if you have been struggling with something you'd like to hide from God, something you know requires His forgiveness, it's important to go there first. Face it, so you can move on. God will help you get through it.
When your heart is at peace, and you feel ready to pray, God will meet you there. He loves to hear you pray, and He always listens to your heart. He knows your story, and nothing surprises Him, so you can put anything that's on your mind before Him. He will strengthen and renew you, creating a spirit that is lighter so your heart can settle down to pray.
Memorize Scripture!
You may be surprised at how quickly the noises will calm down when you recite some of your favorite Scriptures. Speak them aloud until you feel that tender peace that only God can give you.
Here are a couple you might consider:
The Prayer Jesus Taught Us
Our Father in heaven,
hallowed be your name,
your kingdom come,
your will be done,
on earth as it is in heaven.
Give us today our daily bread.
And forgive us our debts,
as we also have forgiven our debtors.
And lead us not into temptation,
but deliver us from the evil one.
Amen
Matthew 6:9-13, NIV
The 23rd Psalm
The Lord is my shepherd, I lack nothing.
He makes me lie down in green pastures,
he leads me beside quiet waters,
he refreshes my soul.
He guides me along the right paths
for his name's sake.
Even though I walk
through the darkest valley,
I will fear no evil,
for you are with me;
your rod and your staff,
they comfort me.
You prepare a table before me
in the presence of my enemies.
You anoint my head with oil;
my cup overflows.
Surely your goodness and love will follow me
all the days of my life,
and I will dwell in the house of the Lord
forever.
Amen
Conclusion
Remember that prayer is a privilege, a way for God and His children to communicate with one another. Don't let distractions keep you from coming before the Lord whenever possible. He offers you an open invitation to talk with Him at any time at all. When you do, you'll experience His blessing. May God hear every prayer of your heart.
Photo Credit: ©Thinkstock-tommaso79
Karen Moore is the author of over 120 inspirational books, including her latest book, Prayers to Strengthen Your Soul: 365 Daily Prayers. She is also an author, coach, and speaker for writing and women's conferences. Between Karen and her husband, they have six grown children and ten grandchildren, and currently work and live in Lady Lake, Florida. Her website is www.karenmooreauthor.com, and you can find her on Facebook @KarenmooreAuthorSpeaker.