A Prayer for Our Journey Toward the Promise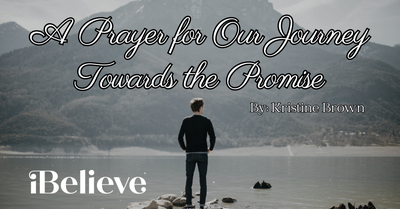 By Kristine Brown, Crosswalk.com
"When you pass through the waters, I will be with you; and when you pass through the rivers, they will not sweep over you. When you walk through the fire, you will not be burned; the flames will not set you ablaze." Isaiah 43:2 NIV
Looking back on my life, I see many detours and unexpected exits. Some roads were smooth, others rocky. God allowed the twists and turns to help me grow stronger and teach me to rely fully on him. But sometimes, I set out on my own, thinking I knew what was best for me. I forged my own paths. Yet even on those off-road trips of my own making, God never left me. He always made a way back to the path he intended for me. Maybe that's why Isaiah 43:2 holds such special meaning. In chapter 43, Isaiah spoke of the beauty of being called God's people. Even though they suffered because of their disobedience, the Creator of the universe chose them. God reassured the Israelites of his loving care and secured their future.
Although they'd lived in exile, he hadn't forgotten them. God made a way to return to him. "Do not be afraid, for I am with you; I will bring your children from the east and gather you from the west." Isaiah 43:5 God's Word through Isaiah brought hope to his people then, and it still offers hope to us for our lives today. God has already made a way for us to return to him. When we wander, we can trust that he guides us back to the path. When we feel lost, we can trust he is with us. If you've attempted to forge your own path or feel like you're wandering in the wilderness, take heart. God hasn't left you. Right now, he is paving the way for your blessed return to the One who loves you beyond measure. Run to him today. As we all journey together toward the promise of eternal life, God will guide us every step of the way.
Click here to read the full article.
Photo Credit: ©SWN Design