A Prayer to Remember God's Loving Faithfulness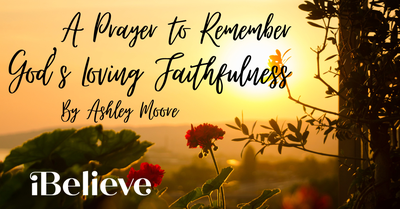 By Ashley Moore, Crosswalk.com
The hand of God was undeniable when we purchased the land where our family now resides. I wanted our kids to grow up with a constant reminder of God's faithfulness and provision. Have you ever set up a memorial to remember God's faithfulness? A friend of ours got a tattoo with the number of stripes that Jesus got when He went to the cross to remind him of the sacrifice of our Savior. One author I know keeps a running list of things she is thankful for to easily recall God's faithfulness. My husband and I set up a stack of stones at the end of our driveway so that when our children and future grandchildren asked about them, we could retell the story of God's provision.
When God instructed Joshua, the nation of Israel's leader, to get stones from the river to stack as a memorial, He wanted the people to have a visual reminder of His past faithfulness. God wanted the people to have a way to endure their present and future struggles based on His character and not their feelings. And God knew that His people would forget if they didn't have some sort of reminder. And we, too, are forgetful people.
We forget where we put our keys. We forget the plans we made for dinner with the neighbor. And we forget the thousands of ways God has been faithful to us.
We don't want to lose our keys, so we only hang them in a certain place at home. We would hate to stand up our friends accidentally, so we put a reminder in our calendars about dinner. And because our relationship with God is vital and important to us, we need to memorialize His faithfulness.
So maybe you want to stack stones, put marbles in a jar, or write reminders for yourself. Whatever you do, never forget how faithful God is, has been, and will be to you in the future. And every opportunity you have, share why you set those reminders up with those around you too! May none of us neglect to memorialize His faithfulness.
Click to read the full article.
Photo credit: ©SWN Design