Telling the Truth with Stuart, Jill & Pete Briscoe
Listen on Family Talk Sirius XM 131
Latest Broadcast
Overcoming Self-Condemnation, Part 2
5/23/2019
Do you ever beat yourself up over a failure or a sin struggle you can't seem to shake? Culture seems to teach that when we fall short, we're no longer as lovable or valuable—we're failures. Because of this, we can become consumed with negative, self-condemning thoughts that can leave us feeling paralyzed. But is this what Jesus wants for us? What does He think of us—even when we mess up?  In this message, Pete Briscoe takes us to 1 John to share how we can be freed from self-condemnation and start living in the light of how God really sees us.
Featured Offer from Telling the Truth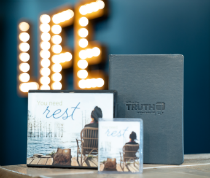 Stop striving and find rest in God
Are you running nonstop and at risk of burning out? Do you feel physically, emotionally, and spiritually depleted while losing sight of God's desires for you? You Need Rest is a new series from Pete and Jill Briscoe that will show you what Scripture says about how to step back from striving and the chaos of life, and find rest in God!