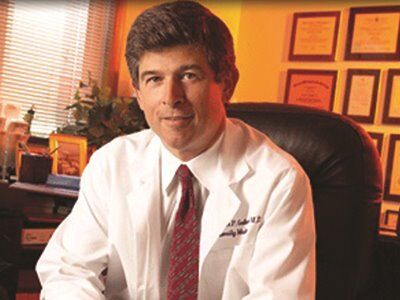 ---
Martin Gallagher, MD, DC, ABOIM is uniquely double board certified in Family Medicine by the American Academy of Family Physicians (AAFP) and Integrative Medicine by the American Board of Physician Specialties (ABPS).
He also is licensed as a physician acupuncturist, and Doctor of Chiropractic. He is the medical director of Integrative Medicine at Medical Wellness Associates, a multi-disciplinary medical center located just outside of Pittsburgh, Pa., that includes a staff of 45, including physicians, chiropractors, nurses, and medical assistants.
Dr. Gallagher is a member of the clinical faculty at the University of Wisconsin School of Medicine at the Hackett Hemwall Patterson Foundation, where he instructs physicians in the burgeoning field of integrative medicine. He also serves as an Adjunct Faculty member at West Virginia University, Department of Family Medicine, where he teaches family medicine residents Medical Acupuncture and Integrative Medicine. Medical Wellness Associates serves as an outpatient teaching facility for Family Medicine residents at WVU. Dr. Gallagher created the first Medical Acupuncture program in the USA for medical residents at WVU. He is a former faculty and postgraduate faculty member at Logan University of Chiropractic, where he taught clinical diagnosis and nutritional therapeutics.
Dr Gallagher is a board member of the American Academy of Orthopedic Medicine (AAOM) and former board member of the International Association of Regenerative Medicine (IART). As a board member and faculty member, he lectures and instructs physicians, internationally, in the field of regenerative injection therapy.
Dr. Gallagher is a frequent lecturer at the American Academy of Anti-Aging Medicine (A4M), where he instructs and educates physicians in IV nutritional therapies and other regenerative biological therapies. He is board certified in Ozone therapy and often lectures at the American Academy of Ozone Therapy (AAOT) annual conference. He is a member of the American Academy of Environmental Medicine (AAEM). Internationally, Dr. Gallagher was a guest lecturer at the Ottawa Pain Society annual conference and the keynote speaker at the Canadian Association of Orthopedic Medicine (CAOM) in Victoria, BC.
He is the author of several books including, the best selling, Dr. Gallagher's Guide to 21st Century Medicine. He has produced over 175 television programs on Integrative Medicine, which have aired nationwide. He has a popular contemporary weekly national radio program on Sirius XM called, Alternatives 2 Medicine.
In addition to his medical practice, Dr. Gallagher travels as a faculty member to Honduras and Guadalajara for medical missions, sponsored by the HHPF and the University of Wisconsin. The mission provides structural prolotherapy to indigent people living in Honduras and Mexico.